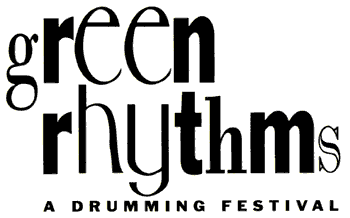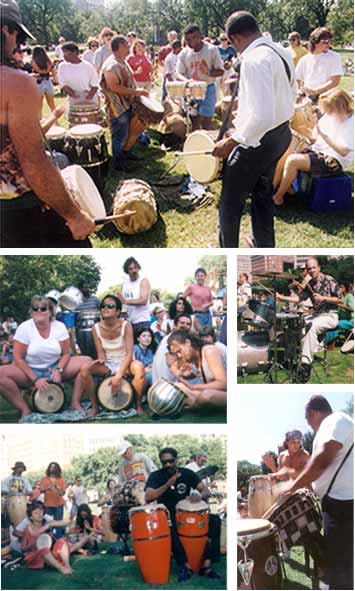 WHAT IS GREEN RHYTHMS?
Hundreds of people playing drums and percussion instruments of all kinds . . . playing together, creating rhythms with their hands and hearts.
That is Green Rhythms. A participatory drumming festival held in downtown New Haven in 1991, 1994 and 1996.
I got the idea for a public drumming festival in early 1991, after reading "Drumming at the Edge of Magic," a book by Mickey Hart, long-time drummer for the Grateful Dead.
Subtitled "A Journey into the Spirit of Percussion," Hart's book is a personal and historical account of drumming. He digs deep to reveal the ancient, primal roots of drumming. Along the way he finds drumming to be the only way to honor his estranged father.
Most striking to me was Hart's description of the important role drumming played in everyday life in many non-Western cultures. For thousands of years communal drumming and dancing have been a part of rituals marking birth, death, planting, harvesting and more.
Hart also writes about the psychological effects of rhythm. He reported historical, scientific and personal accounts of how rhythm can cause a trance-like sensation . . . if the rhythm is right.
This is especially true of the intricate rhythms of traditional African group drumming. Using different types of drums and percussion instruments, the players perform different rhythms that interweave with each other to form a complex pattern. The Big Beat.
I was fascinated by the thought of large numbers of drummers playing together, in a public place. It wasn't something you often saw or heard in Western culture at the time.
So I decided to organize a drumming festival. My mission was to have as many people as possible bring drums and percussion instruments and play together.
My inexperience with group drumming made me wonder how to keep the playing from dissolving into chaos. I decided that drum leaders could start the beat and help keep it organized.
I contacted the city and reserved the New Haven Green from 2 to 6 on a Sunday afternoon in August. The Green is a huge open space in the heart of the city's downtown. I wanted the drummers to be out in the open, in the most public place I could find.
The only catch about the Green is that no financial transactions are allowed there. No admission charges, no selling, no donations. I would have to finance this myself.
I wrote press releases to Connecticut newspapers and radio and TV stations. I printed up posters and put them in every music store in the area. I sent notices to the country's several drum publications. I rented a PA system so announcements could be made.
I contacted dozens of drummers to see who might want to serve as leaders for playing in different rhythm styles — African, rock, jazz, Latin. Many weren't interested. They didn't think a large group of drummers could stay together.
They were wrong. It turned out to be surprisingly easy (as African and Latin drummers have known for centuries). Once the rhythms get started, they take on a life of their own.
About 300 people showed up, and most of them brought something to play. Others danced or just watched, but we all had a lot of fun.
I've organized and hosted three Green Rhythms festivals. There might be another some day. Each one attracted more participants — more than 500 players throughout the day in 1996.
I have been very fortunate over the years to have help from people experienced in traditional African and Latin drumming, including Martin Obeng, Michael Mills and Paul Huggins, who have served as leaders. Drumset drummers Ken Aldrich, Paul Mills, Nick Forte and Keith Ferriola also have been leaders.
They have my undying thanks.
So do the hundreds and hundreds of people who brought their congas, bongos, ashikos, djembes, dumbeks, shakers, claves, cowbells, woodblocks, cymbals and full drumsets — and their hearts — to play together.
— Mike Jones